MONTREAL, Sept. 01, 2023 (GLOBE NEWSWIRE) — Polysleep, the innovative local company focused on innovation and quality in mattresses, is proud to partner with Matelas Bonheur for a one-of-a-kind experience in Montreal. This exceptional collaboration aims to showcase Polysleep products in 18 Matelas Bonheur stores throughout the city, providing customers with a unique opportunity to discover the superior quality of our products while participating in a fun treasure hunt.
From August 30th to September 3rd, every day in each Matelas Bonheur store, a premium Polysleep pillow will be offered as a prize. In total, 90 Polysleep pillows will be awarded to lucky participants residing in the Greater Montreal area for their campaign "SLEEP LIKE YOU'RE STILL ON VACATION."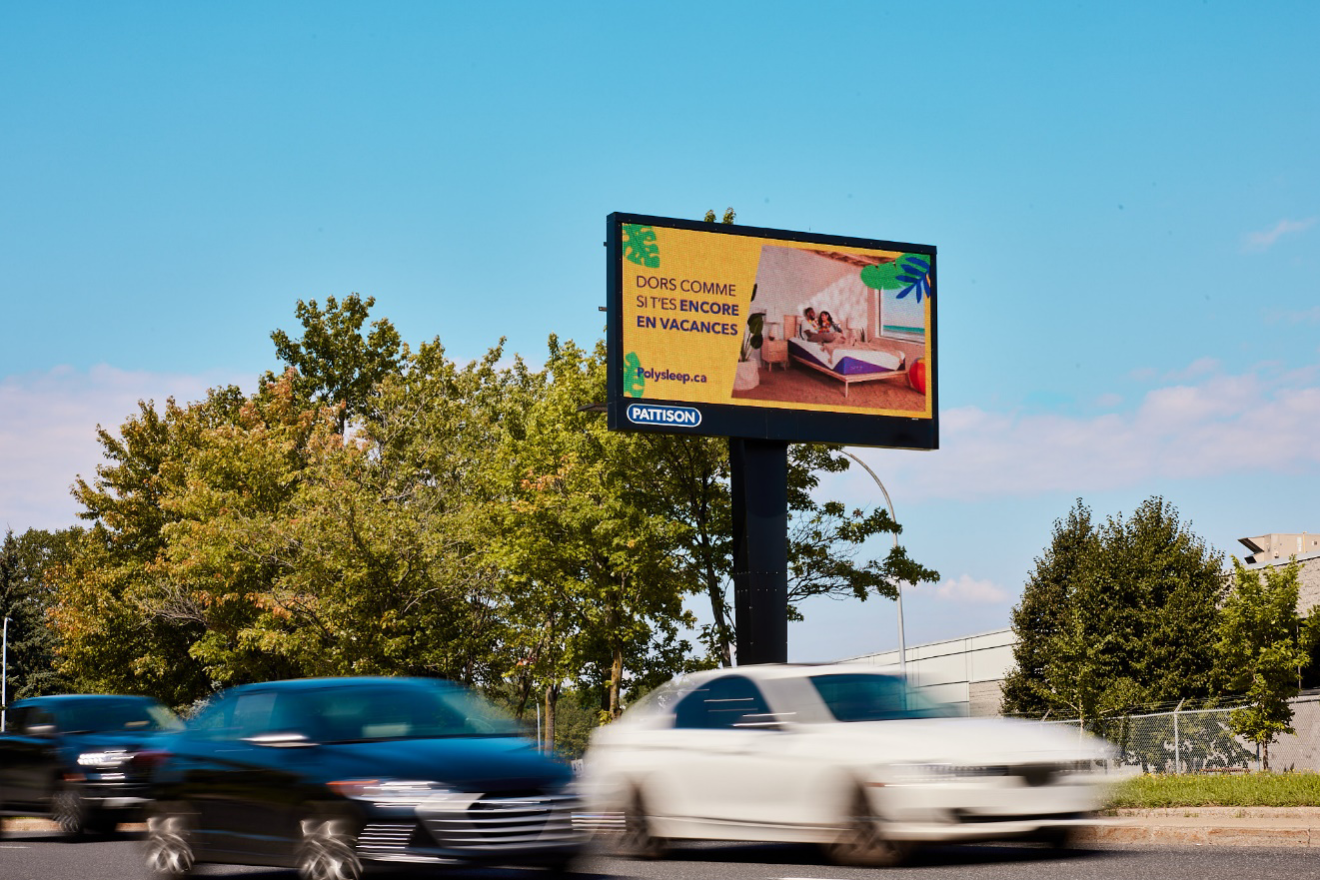 The billboards for the "SLEEP LIKE YOU'RE STILL ON VACATION" campaign by Polysleep in Montreal.
The Polysleep Treasure Hunt x Matelas Bonheur invites Montreal residents to visit one of the 18 participating Matelas Bonheur stores to try their luck. Participants will have the opportunity to discover Polysleep mattresses and sleep accessories while taking part in an entertaining game.
Join us in this unique adventure as Polysleep and Matelas Bonheur continue to innovate and create memorable experiences for the Montreal community. The Polysleep Treasure Hunt x Matelas Bonheur has begun, so get ready for an exceptional experience!
For more information about the Polysleep Treasure Hunt x Matelas Bonheur, please visit our social media channels.
About Polysleep
Polysleep is a leader in the mattress industry in Canada, dedicated to creating high-quality mattresses and innovative sleep accessories to enhance the quality of life for its customers. Founded on the principles of comfort, support, and durability, the Polysleep brand is known for its cutting-edge technology and commitment to excellence. To learn more about Polysleep, visit https://polysleep.ca/.
About Matelas Bonheur
Matelas Bonheur is a renowned Montreal-based company that has been offering a wide range of high-quality mattresses and sleep products for many years. True to its mission of promoting quality sleep, Matelas Bonheur stands out for its expertise and exceptional customer service. To learn more about Matelas Bonheur, visit https://www.matelasbonheur.ca/
Victoria Bakos
Public Relations Manager
[email protected]
514.629-4044
A photo accompanying this announcement is available at https://www.globenewswire.com/NewsRoom/AttachmentNg/3e33a9e3-9230-4f59-9e95-a62a5eaa7136

Resource News, Oil and Gas News, Mining News, Renewable News