MONTREAL, Sept. 06, 2023 (GLOBE NEWSWIRE) — The directors of Sirios Resources inc. (TSX-V: SOI) are pleased to announce that lithium-targeted follow-up work will be performed on significant tantalum anomalies previously detected in till samples from the Maskwa property (press release July 5, 2023). The mandate for the work was awarded to IOS Services Géoscientiques inc. of Saguenay, Quebec (IOS) which will collect more than 110 till samples along sampling lines (WNW-ESE) over two target areas.
The planned work will test the Maskwa property for the presence of spodumene bearing pegmatites (a lithium source mineral), the potential of which was demonstrated by the 2020 survey. The work will also test previously detected gold and tungsten anomalies.
Sampling lines spaced between 500 m and 2000 m are planned perpendicular to the dominant ice flow and up-ice of the anomalous results already detected. The spacing between samples takes into account the types of surficial deposits and till availability as indicated on the map below. Sampling lines, 2 km apart with samples taken at 250 m intervals, are planned in the northeast portion of the property to complete the regional sampling of the property.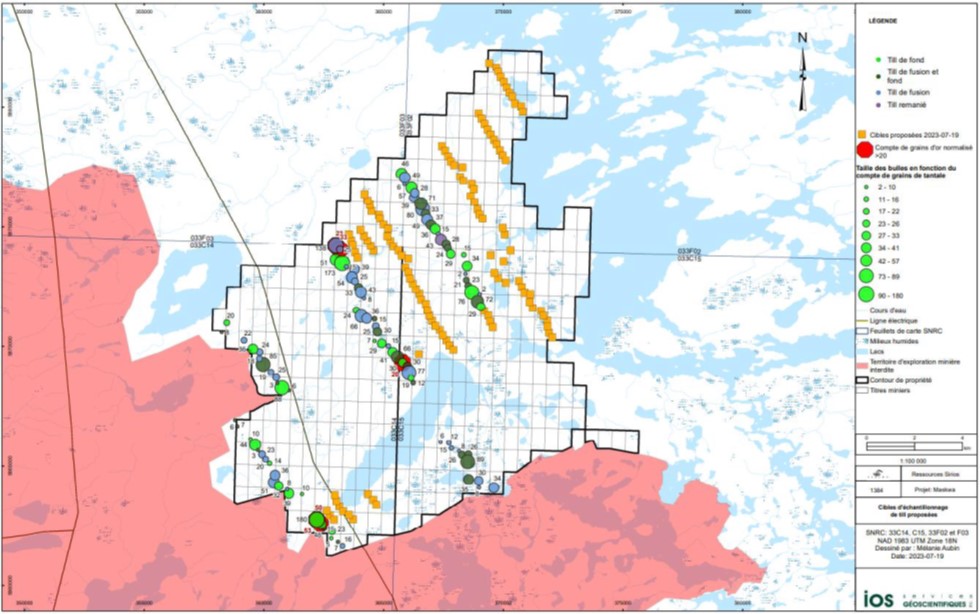 The previous till sampling survey had revealed three significant tantalum anomalies with grain counts each exceeding one hundred tantalum minerals, mainly colombotantalites (niobium tantalum oxide mineral), with a maximum of 179 grains. These observations came from the 97 heavy mineral concentrates processed by the ARTGold method, an automated scanning electron microscope (SEM) mineral detection technology. This IOS proprietary technology has demonstrated its effectiveness in the region of the Pontax lithium deposit on behalf of clients including the Ministry of Natural Resources and Forests of Quebec.
Colombotantalite is a mineral found mainly in spodumene bearing pegmatites (the main source of lithium) of the LCT (Lithium-Cesium-Tantalum) type as well as in certain alkaline igneous rocks. Several occurrences of LCT pegmatites are present among the volcanic rocks of the southern segment of the LaGrande Subprovince, host to the Maskwa property.
About the Maskwa Property
The Maskwa property, 100% owned by Sirios, is located approximately 100 km southwest of Radisson and approximately 120 km east of Wemindji in Eeyou Istchee James Bay, Quebec. The property consists of 396 claims, covering a surface area of approximately 201 km2. In addition to the tantalum anomalies, the till survey carried out in 2020 identified three areas anomalous in gold, platinum group and tungsten minerals on the property. Such associations are considered indicative of certain significant types of gold deposits.
Jordi Turcotte, P.Geo. and Dominique Doucet, P.Eng., President, Qualified Persons under National Instrument 43-101, have prepared and verified the technical information for this press release, and reviewed the final version of the text.
About Sirios
Sirios Resources is a Canadian-based mining exploration company focused on developing its portfolio of high-potential gold and lithium properties in the Eeyou Istchee James Bay region of Quebec.
Cautionary note regarding forward-looking statements
This press release contains "forward-looking statements" within the meaning of applicable Canadian securities laws based on expectations, estimates and projections as of the date of this press release. Forward-looking statements involve risks, uncertainties and other factors that could cause actual events, results, performance, expectations and opportunities to differ materially from those expressed or implied by such forward-looking statements. Factors that could cause actual results to differ materially from those indicated in such forward-looking statements include, but are not limited to capital and operating costs that differ materially from estimates; the tentative nature of metallurgical test results; delays or failures in obtaining required governmental, environmental or other approvals; uncertainties related to the availability and cost of necessary financing in the future changes in financial markets; inflation; fluctuations in metal prices; delays in project development; other risks relating to the mineral exploration and development industry; and risks disclosed in public filings of the Company on SEDAR at www. sedar.com. Although the Company believes that the assumptions and factors used in preparing the forward-looking statements contained in this news release are reasonable, readers should not place undue reliance on this information, which speaks only as of the date of this news release, and there can be no assurance that such events will occur or occur within the time periods presented. The Company disclaims any intention or obligation to update or revise any forward-looking statements, whether as a result of new information, future events or otherwise, except as required by applicable law.
Neither TSX Venture Exchange nor its Regulation Services Provider (as that term is defined in the Rules of the TSX Venture Exchange) accepts responsibility for the adequacy or accuracy of this release.
Contact :
Dominique Doucet, Eng., President
Tel. : 514-510-7961
[email protected]
Website : www.sirios.com
A photo accompanying this announcement is available at https://www.globenewswire.com/NewsRoom/AttachmentNg/aef12d9c-f50b-4218-acd0-de7e9d028476

Resource News, Oil and Gas News, Mining News, Renewable News