– Rogers to award the #CGT Season 3 winner with a whopping $1,000,000, the biggest cash prize in Canadian television history –
– Plus, CIBC to award the six Season 3 Golden Buzzer acts with $25,000 each, totalling $150,000, to help realize their ambitions –
– Applications are open now on Citytv.com to audition for Season 3 –
– Interviews available by request –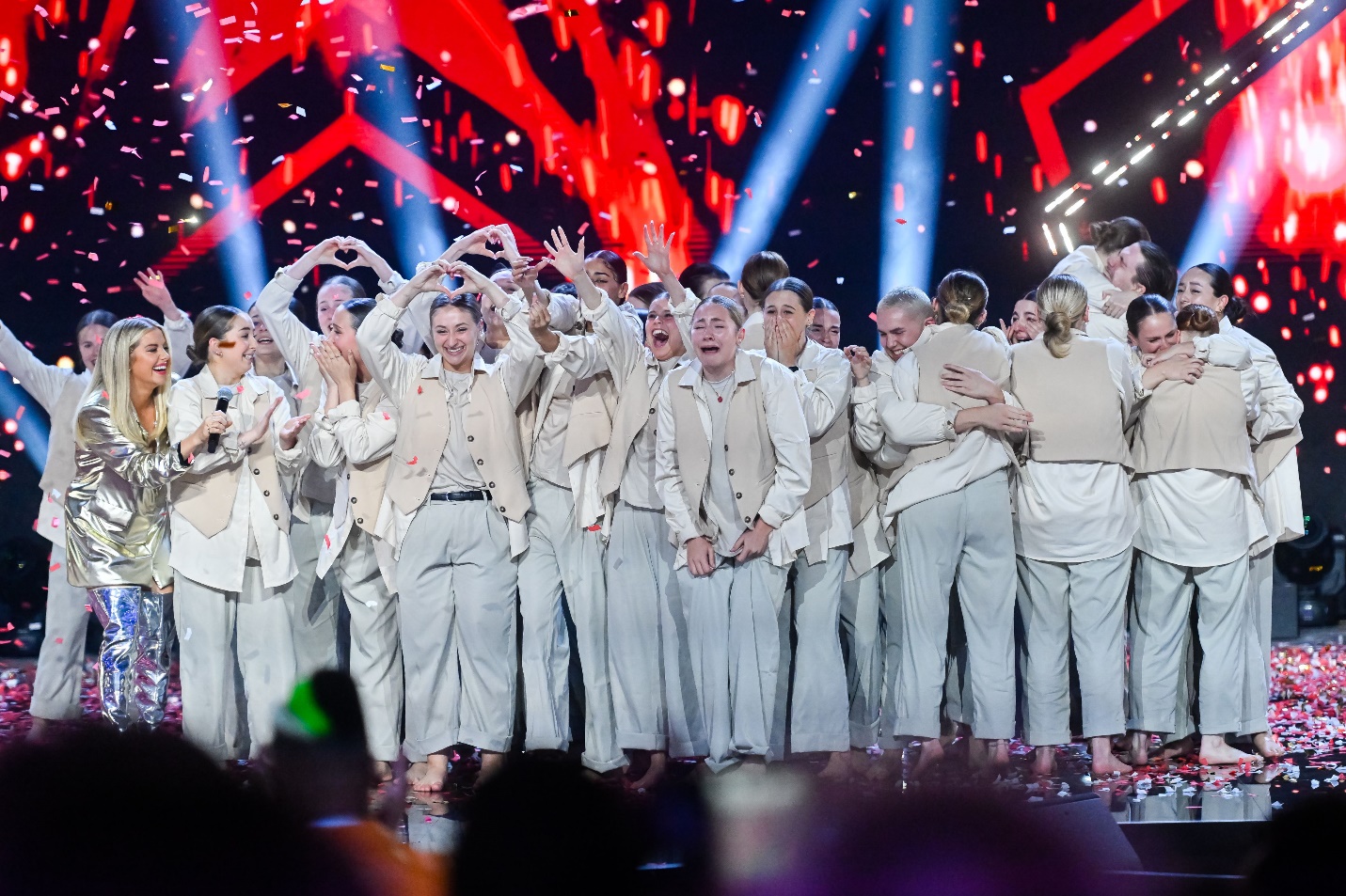 Join the conversation: #CGT
TORONTO, May 17, 2023 (GLOBE NEWSWIRE) — Canadians from coast-to-coast-to-coast cast their votes and the results are in. CONVERSION from Trois-Rivières, QC is the Canada's Got Talent Season 2 champion after impressing the audience, the #CGT judges – Howie Mandel, Lilly Singh, Kardinal Offishall, Trish Stratus – and host Lindsay Ell with an unforgettable dance routine during tonight's live two-hour finale on Citytv and Citytv+. CONVERSION (Trois-Rivières, QC) won Canada's hearts and votes with their emotionally-driven performances and powerful storytelling. CONVERSION (Trois-Rivières, QC) wins $150,000 and financial advice, courtesy of CIBC, to help realize their ambitions, and the opportunity to perform in "America's Got Talent Presents: SUPERSTARS Live" at the Luxor Hotel & Casino in Las Vegas.
Hot off the heels of CONVERSION's (Trois-Rivières, QC) win, Citytv has greenlit the series for Season 3 in partnership with McGillivray Entertainment Media Inc., Fremantle, and SYCO Entertainment. New for next season, the winner of Canada's Got Talent Season 3 will receive $1,000,000 – the biggest cash prize in Canadian television history – courtesy of Rogers.
"As another incredibly entertaining season comes to an end, we are proud to support next season's winner of Canada's Got Talent with resources to help achieve their lifelong goals. As a proud Canadian company, we are committed to nurturing and investing in Canadian talent," said Tony Staffieri, President & CEO, Rogers. "We are excited to see what next season will bring and ultimately witness the winner's remarkable achievements and be a part of their extraordinary success."
"Each season inspires the next, and the fact that Rogers is giving us an opportunity for another season, with the biggest cash prize in Canadian television history, not only promises that it will be bigger and better but that we are now putting Canada's Got Talent on the world stage," said Howie Mandel, Judge, Canada's Got Talent.
CIBC has been a proud partner since the inaugural season of Canada's Got Talent and will continue to make dreams come true by awarding each of the six Golden Buzzer recipients next season with $25,000 each, totalling $150,000, to help realize their ambitions. Plus, CIBC will provide the Season 3 winner with financial advice. Applications are open now on Citytv.com to apply.
"After another fantastic season of Canada's Got Talent there's so much to celebrate! We've seen dazzling performances, crowned the amazing dance crew Conversion as this season's winner and have a third season to look forward to! Got Talent is a global phenomenon that has been adapted in 73 markets to date, so it's an honour to work with SYCO, Rogers Sports & Media and MEM to bring audiences another season of the wonderful Canada's Got Talent. Our judges, host and crew are amazing and we can't wait to show Canada what we have planned for Season 3!" said Michela Di Mondo, Executive Vice President, Distribution & Sales, Fremantle.
"What a season! This year we welcomed Canadians from all over the world to compete on stage in front of thousands of CGT fans. Canadians tuned in week after week to follow the journey of ordinary people with extraordinary talent. Along with our partners at Fremantle and Rogers Sports & Media, we are committed to shining a big spotlight on talented Canadians. We can't wait to see what Season 3 brings!" said Scott McGillivray, Executive Producer, Canada's Got Talent and Owner, McGillivray Entertainment Media.
Reaching more than 6.5 million Canadians from the premiere episode through to the semifinals, Canada's Got Talent cements itself as Citytv's most-viewed original series in over a decade.
Hailing from Trois-Rivières, Quebec, CONVERSION is a dynamic dance crew who received Trish Stratus's Golden Buzzer in Episode 2 of Canada's Got Talent. Supervised by choreographer and coach Vincent Desjardins, CONVERSION creates unique shapes, movements, and emotions in their intricately crafted routines and synchronized movements.
Key moments from tonight's episode include:
Group Golden Buzzer THE CAST (Lévis, QC) brought the audience at OLG Stage to their feet with their hard-hitting dance routine, Howie said "[they] are worthy of being here."
THE TURNBULL BROTHERS (Glace Bay, NS) performed a cover of "If You Could Read My Mind" by Gordon Lightfoot, Kardinal said "it was the best [they've] sounded throughout the entire competition."
MEAVE (Niagara Falls, ON) sang a cover of "Somebody to Love" by Queen, Kardinal said "Howie went out for lunch and he came back with a star."
Howie Mandel's Golden Buzzer GENEVIÈVE CÔTÉ (Laval, QC) brought the crowd to their feet after a Jurassic Park-inspired piece, Howie called her "creative and authentic."
Trish Stratus's Golden Buzzer CONVERSION (Trois-Rivières, QC) moved in complete unison throughout their dance routine and brought the judges to their feet, Trish said "[they] are this season's storytellers"
Magician ATSUSHI ONO (Calgary, AB) stunned the audience at OLG Stage with his magic trick, Trish said "I want to see more from [him] and I know audiences at home feel the same."
Dance crew COOL GIRAFFES (Edmonton, AB) blew the roof off moved in unison throughout their routine, Trish said "it was full of energy"
Singer RAYMOND SALGADO (Vancouver Island, BC) performed an incredible cover of "Lay Me Down" by Sam Smith, Howie said "[he's] a star"
Source: Numeris, Consolidated (Live+7), Cumulative Reach for Ind 2+, AMA for A25-54. Note that semifinals; data is pending confirmation from Numeris.
A Recap of Tonight's Finale
Performances (Tuesday, May 16)
Canada's Got Talent is produced by McGillivray Entertainment Media Inc. and Fremantle, in association with Citytv, a division of Rogers Sports & Media based on the Got Talent format owned by Fremantle and SYCO Entertainment.
Social Media Links
Canada's Got Talent on Instagram
Canada's Got Talent on TikTok
Canada's Got Talent on YouTube
Canada's Got Talent on Twitter
Canada's Got Talent on Facebook
Hashtag: #CGT
Official CGT Destination: https://CGT.Citytv.com/
Citytv on Instagram
Citytv on Twitter
Citytv on Facebook
Rogers Sports & Media on Twitter
About Citytv
Citytv and Citytv.com offer viewers intensely-local and diverse content through its seven television stations in Toronto, Vancouver, Calgary, Edmonton, Saskatchewan, Winnipeg, and Montreal, along with the award-winning Citytv app, which is available on iOS, Android, Samsung TV, Apple TV, and Fire TV Stick devices, plus Citytv+ available with Prime Video. Citytv delivers an entertaining mix of Canadian and acquired prime-time programming, news, and lifestyle content from influential brands such as Breakfast Television, Cityline, and CityNews. Citytv is part of Rogers Sports & Media, which is a subsidiary of Rogers Communications. (TSX, NYSE: RCI).
About Fremantle
Fremantle is one of the world's largest and most successful creators, producers and distributors of Entertainment, Drama & Film and Documentaries. Operating in 27 territories we are a proudly independent group of content creators. We produce and deliver high-quality multi-genre IP including some of the biggest entertainment formats, most watched international dramas, award winning films and hard-hitting documentaries, amplifying local stories on a global scale. From Idols to The Mosquito Coast, The Price is Right to The Hand of God, The Farmer Wants A Wife to Arctic Drift, Family Feud to My Brilliant Friend and Bones & All to Planet Sex our focus is simple – we create and deliver irresistible entertainment. We are also a world leader in digital and branded entertainment with more than 470 million fans across 2,000 social channels and over 34 billion views per year across all platforms. Fremantle is part of RTL Group, a global leader across broadcast, content and digital, itself a division of the international media giant Bertelsmann. For more information, please visit www.fremantle.com, follow us on Twitter @FremantleHQ and Instagram @fremantle or visit our LinkedIn page.
About McGillivray Entertainment Media Inc.
Established in 2014, McGillivray Entertainment Media Inc. (MEM) is a leading factual, lifestyle and reality production company, creating high-rated, original content for Canadian and US broadcasters. MEM's strong development slate and accelerated investment continues to answer the rapidly changing needs of broadcasters and streamers, and has resulted in expansive growth, bringing exciting, original content to diverse audiences worldwide. The company is rooted in strong, foundational relationships with strategic partners, buyers, and creatives alike. MEM constantly delivers beyond what's expected, and ensures its content meets the highest industry and creative standards.
About SYCO Entertainment
Simon Cowell's Syco Entertainment, is an independent entertainment company which owns TV formats such as "Got Talent" and "The X Factor". Got Talent is officially the world's most successful reality TV format; America's Got Talent remains the No1 summer series in the US for the past 15 years; The X Factor is the most successful music TV format in history delivering more global chart stars than any othe;r show. These two shows are currently on air in more than 180 countries and are watched by more than a billion people each year. Artists discovered on his TV formats have sold over 600 million records and Simon has launched more superstar careers than any other in history including One Direction, Camila Cabello, Leona Lewis, Fifth Harmony, CNCO, Little Mix, Louis Tomlinson, James Arthur, Paul Potts, and Susan Boyle. During his career and partnership with Sony Music, he also launched Il Divo and Westlife.
For interview opportunities, please contact:
Citytv – Alessia Staffieri, [email protected], 647.262.8412
Unit Publicists – Amy Doary, [email protected], 416.710.6079; Adrienne Kakoullis, [email protected], 416.450.6637
A photo accompanying this announcement is available at: https://www.globenewswire.com/NewsRoom/AttachmentNg/08c91993-e51f-40c7-bd73-39408581fd11

Resource News, Oil and Gas News, Mining News, Renewable News