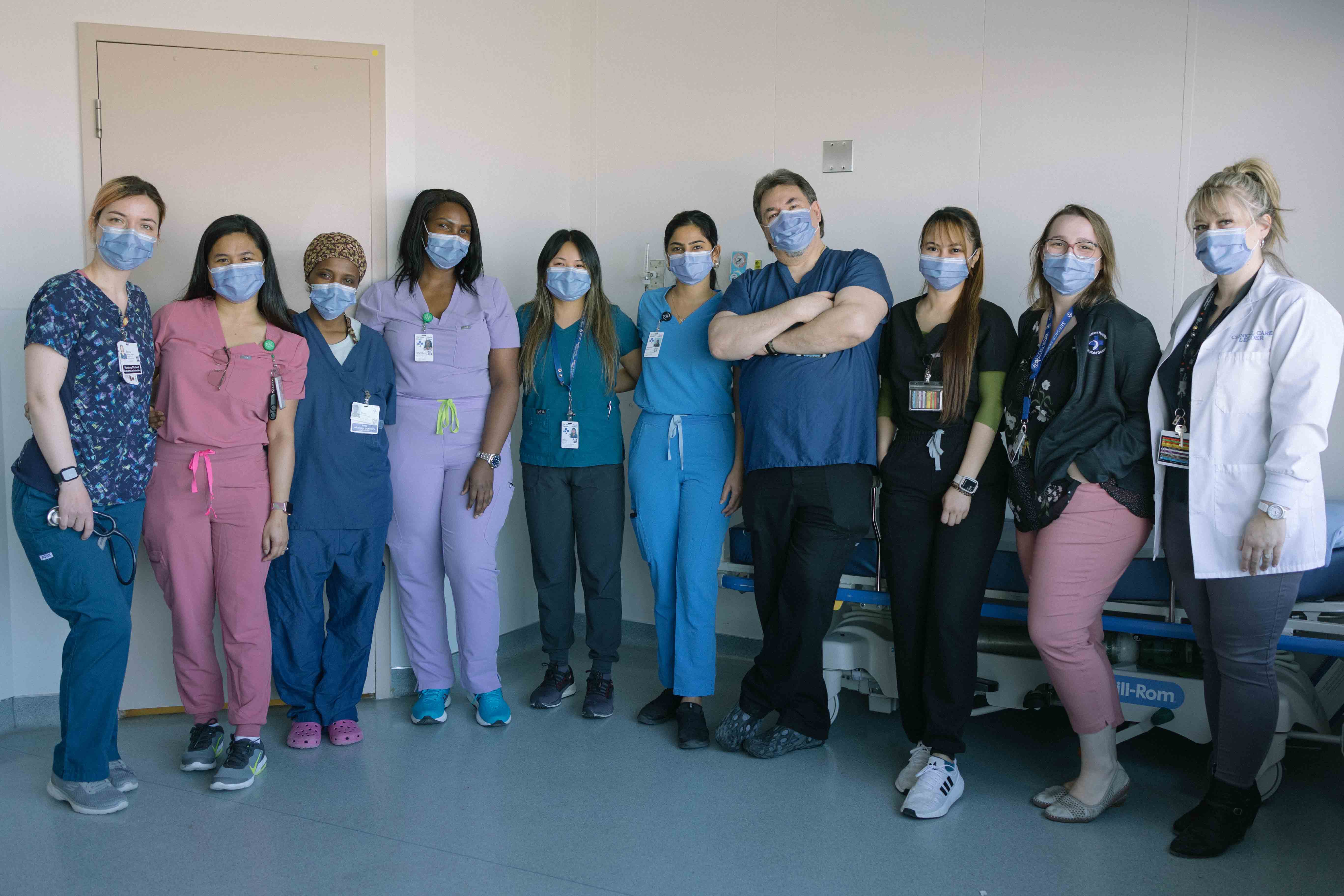 From Left to Right: Gokce Gungor, Jho Ann Perez, Mistir W-Yohannes, Marie-Francoise Uwizeyimana, Leny Chhun, Amandeep Kaur, Claude Cormier, Giselle Mae Lores, Veronique Savard (SW), Melanie Doucet, 4 West Transitional Care Unit, General Campus, The Ottawa Hospital
Photo credit: The Ottawa Hospital
OTTAWA, Oct. 11, 2023 (GLOBE NEWSWIRE) — Canadian Nurses Foundation (CNF), a leading national charity that invests in nurses, nursing students and nursing education, will host its annual fundraiser, The Night Shift: Lighting Up the Night for Nurses on November 2, 2023 at Ottawa's National Arts Centre. Funds raised will go towards the charity's growing mental health programs, as well as its scholarship program which offers over 100 scholarships and bursaries to nursing students across the country each year.
"Canadian nurses have faced immense trials and challenges over the past few years that have negatively affected their psychological well-being, which also impacts the health outcomes of Canadians and our entire health care system," said Rob Gottschalk, CEO, Canadian Nurses Foundation. "Proceeds from events like The Night Shift and our ongoing fundraising efforts are supporting new specialized mental health programs for nurses in Canada and education opportunities for the next generation of nurses making their way into the profession."
With the majority of nurses (78%) reporting that they have experienced a breaking point related to their job this year and 89% revealing their mental health is suffering due to current workplace conditions, CNF is advancing its commitment to nurses and mental health support. Most recently, CNF has partnered with the Mental Health Commission of Canada to fund programming and training to help build a well-resourced nursing community with a focus on mental health.
The Night Shift: Lighting Up the Night for Nurses
Hosted by Ottawa's award-winning media personality Stefan Keyes, The Night Shift will be a memorable evening filled with entertainment and compelling messages from healthcare leaders including Canada's Chief Nursing Officer, Dr. Leigh Chapman, along with Canadian Nurses Association President, Dr. Sylvain Brousseau, and more.
New this year, the charity is launching Gift A Nurse A Night Out, a ticket purchasing option that allows anyone to gift an event ticket to a local Ottawa nurse as another way to thank and acknowledge nurses. For details visit cnfnightshift.ca.
Canadian Nurses Foundation would like to thank this year's Nurse Appreciation supporter, The Ottawa Hospital, along with all of the organization's partners including Canadian Nurses Association, Cleland Jardine Engineering, Coerente Capital Management, CeraVe, Emond Harnden LLP, Kenvue, Ottawa Heart Institute, Ottawa Hospital Research Institute, OTUS Group, SE Health, VON Canada, and WeRPN for their ongoing commitment to Canadian nurses and nursing students.
To purchase tickets for this can't-miss event, visit cnfnightshift.ca and follow us on Facebook @cnf.fiic, Instagram @canadiannursesfoundation and X (Twitter) @theCNF using #CNFnightshift
About Canadian Nurses Foundation
Canadian Nurses Foundation supports world-class Canadian health care by raising funds to advance nurse knowledge and research. Since 1962, CNF has invested in more than 2,000 nurses, nurse researchers and nursing students through funding over $10 million in educational scholarship and $9 million in nurse-led research to advance nursing practice, knowledge and care in Canada.
CNF's current focus is the Healing Healthcare initiative which provides advancement in four important areas of nursing to strengthen and improve the health of Canadians including Post-Secondary Education & Certification (financial support), Healthy Nurses' initiatives (mental health programs), Career Support & Mentorship programs as well as funding of Nurse-led Research. Within each pillar, CNF will provide funding for individuals from all underrepresented communities in Canada including all Indigenous populations and communities.
Visit cnf-fiic.ca and connect with us on Facebook, X (Twitter) and LinkedIn.
For media inquiries, contact: Christina Vanin, The Edit PR, [email protected], 416-904-3086
A photo accompanying this announcement is available at https://www.globenewswire.com/NewsRoom/AttachmentNg/803d8da1-ae82-410c-b647-2f090f511aa3

Resource News, Oil and Gas News, Mining News, Renewable News