MONTREAL, May 24, 2023 (GLOBE NEWSWIRE) — Brunswick Exploration Inc. (TSX-V: BRW, OTCQB: BRWXF; "BRW" or the "Company") is pleased to announce that it has received a first set of results from its recently completed drilling campaign at the Anatacau West project, located in the Eeyou Istchee-James Bay region of Quebec. The initial results presented today are from twelve holes with another six pending. Final assays for the remaining holes are expected in the coming weeks.
Drill result highlights
26.5 metres at 1.51% Li2O in drill hole AW-23-01;
9.9 metres at 1.03% Li2O in drill hole AW-23-10;
10.1 metres at 1.06% Li2O, including 4.9 m at 1.63% Li2O and 12.6 metres at 1.12% Li2O in drill hole AW-23-14.
Mr. Killian Charles, President and CEO of BRW, commented: "With the start of our pan-Canadian grassroot lithium exploration campaign, one of the largest lithium exploration initiatives in North America, we are excited to receive assays confirming the presence of high-grade, near-surface and thick lithium-bearing pegmatites from our inaugural drilling campaign at Anatacau West. Our drilling tested the pegmatites to a shallow depth and their remains substantial opportunities for more growth. With minimal regional prospecting for lithium, we look forward to continue expanding the lithium potential both at the Anatacau West and the Anatacau Main project over the coming weeks and months."
Anatacau West Drilling Campaign Overview
Following drilling completed to date, BRW believes it has intercepted at least two continuous, distinct spodumene-bearing pegmatites. All of the pegmatites are oriented north-northeast, are closely spaced in an on-echelon pattern and dip steeply towards the west. The pegmatites are hosted in metasedimentary rocks in an east-west deformation corridor similar to Allkem's neighboring James Bay Lithium Deposit.
Drilling has initially focused on near surface mineralization with the pegmatites only being drill tested to a maximum vertical depth of 137 meters. They remain open at depth. Furthermore, potential exists for repetition of new pegmatites further to the south and to the east.
Lithium mineralization consists predominantly of spodumene with minor lepidolite. Spodumene crystals are generally well-formed, decimetric in scale (up to 10cm) and have a white to pale grey color. Importantly, grade is strongly correlated with visually identified spodumene percentage in core allowing BRW to rapidly ascertain the lithium potential of mineralized intercepts in exploration drilling.
Next Steps
Starting next week, our exploration campaign in Quebec will begin with regional, helicopter-supported prospecting at the Anatacau West and Anatacau Main projects from the nearby Wabamisk camp. Already, BRW has identified more spodumene-bearing pegmatites at Anatacau Main, located 22 km east from Anatacau West. These pegmatites have been minimally prospected and will be a priority target. BRW expects to conduct follow-up on stripping and/or drilling on several targets across both projects once it has completed an initial wave of prospecting.
Concurrent to work at Anatacau West and Anatacau Main, BRW will also be operating a camp at the PLEX project to the north and a smaller fly-camp at the Mirage project located further east from PLEX. The Company's portfolio in the entire Eeyou Istchee-James Bay region includes over 250 untested S-type pegmatites measuring a minimum strike length of 500 meters (for more information on the BRW's regional prospecting plan for the Eeyou Istchee-James Bay region, see NR dated May 11 2023).
Table 1: Mineralized Intercepts from the Winter 2023 Anatacau West Drilling Campaign
Hole ID
From (m)
To (m)
Interval (m)
Li2O (%)
AW-23-01
8.6
12.8
4.2
0.21
30.6
57.1
26.5
1.51
AW-23-02
29.6
37.2
7.6
0.69
AW-23-03
No Significant Interval
AW-23-04
31.2
34
2.8
Assays Pending
AW-23-05
59.7
64.3
4.6
Assays Pending
93.3
100.9
7.6
Assays Pending
178.9
197.1
18.2
Assays Pending
AW-23-06
154.5
164.9
10.4
0.57
Incl.
156.5
157.5
1.0
1.29
and
161.5
164.1
2.6
1.55
AW-23-07
No Significant Interval
AW-23-08
31.1
32.1
1.0
0.52
AW-23-09
No Significant Interval
AW-23-10
44.7
47
2.3
1.09
54.2
57.1
2.9
0.45
63
72.9
9.9
1.03
Incl.
66
70
4.0
1.30
AW-23-11
170.2
172.5
2.3
0.13
AW-23-12
No Significant Interval – Assays Pending
AW-23-13
No Significant Interval – Assays Pending
Note: All drill holes are NQ core size and all intervals are core length. True width of intervals is not confirmed but estimated to be approximately 70% of true width. Significant intervals are assay values above 0.1% Li2O. Further analysis revealed that mineralization in AW-23-03 was composed of cookeite, a phyllosilicate lithium mineral and not spodumene.
Table 1 (con't): Mineralized Intercepts from the Winter 2023 Anatacau West Drilling Campaign
Hole ID
From (m)
To (m)
Interval (m)
Li2O (%)
AW-23-14
16.9
17.9
1.0
1.04
117.2
127.3
10.1
1.06
Incl.
121.1
126
4.9
1.63
161.6
174.2
12.6
1.12
AW-23-15
No Significant Interval
AW-23-16
43.7
47.2
3.5
1.07
Incl.
43.7
45.7
2.0
1.34
148
150
2.0
0.63
Incl.
149
149.4
0.4
1.19
AW-23-17
26
31
5.0
Assays Pending
35.7
68.1
32.9
Assays Pending
216.6
221.6
5.0
Assays Pending
224
226.5
2.6
Assays Pending
AW-23-18
9
28.4
19.6
Assays Pending
163.3
166.8
3.5
Assays Pending
Note: All drill holes are NQ core size and all intervals are core length. True width of intervals is not confirmed but estimated to be approximately 70% of true width. Significant intervals are assay values above 0.1% Li2O.
Figure 1: Plan Map of Drill Holes Completed at Anatacau West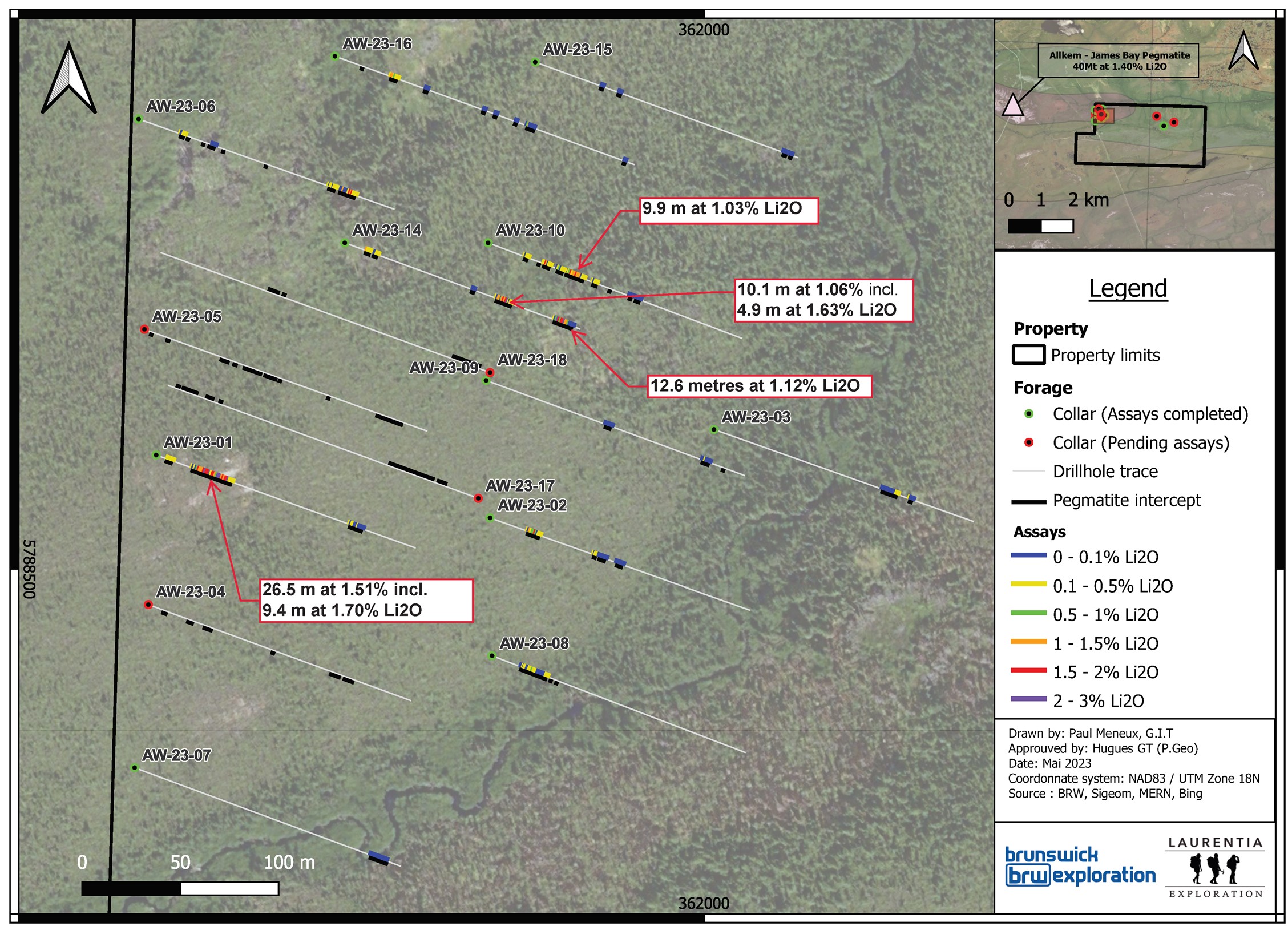 Table 2: 2023 Winter Drill Hole Location
Quality Assurance / Quality Control
BRW adheres to a strict QA/QC program for core handling, sampling, sample transportation and analyses. Drill core samples from the Company's projects are securely transported to a core facility on site, where they are logged and sampled over 0.5 to 1.0 meter intervals. Samples selected for assay include insertion of quartz blanks and certified reference materials into sample batches at a rate of approximately 10 per cent. Samples are shipped to ALS Canada Ltd.'s preparation facility in Val-d'Or. Pulps are analyzed at the ALS Canada Ltd. facility in Vancouver. All samples are analyzed by sodium peroxide fusion with ICP-AES/MS finish. Reported drill intersections use a lower analytical cut off value of 0.1% Li2O.
Qualified Person
The scientific and technical information contained in this press release in regards to Quebec has been reviewed and approved by Mr. Francois Goulet, Manager Quebec. He is a Professional Geologist registered in Quebec.
About Brunswick Exploration
Brunswick Exploration is a Montreal-based mineral exploration company listed on the TSX-V under symbol BRW. The Company is focused on grassroots exploration for lithium in Canada, a critical metal necessary to global decarbonization and energy transition. The company is rapidly advancing the most extensive grassroots lithium property portfolio in Canada with holdings in Quebec, Ontario, Saskatchewan, Manitoba, New Brunswick and Nova Scotia.
Cautionary Statement on Forward-Looking Information
This news release contains "forward-looking information" within the meaning of applicable Canadian securities legislation based on expectations, estimates and projections as at the date of this news release. Forward-looking information involves risks, uncertainties and other factors that could cause actual events, results, performance, prospects and opportunities to differ materially from those expressed or implied by such forward-looking information. Factors that could cause actual results to differ materially from such forward-looking information include, but are not limited to, delays in obtaining or failures to obtain required governmental, environmental or other project approvals; uncertainties relating to the availability and costs of financing needed in the future; changes in equity markets; inflation; fluctuations in commodity prices; delays in the development of projects; the other risks involved in the mineral exploration and development industry; and those risks set out in the Corporation's public documents filed on SEDAR at www.sedar.com. Although the Corporation believes that the assumptions and factors used in preparing the forward-looking information in this news release are reasonable, undue reliance should not be placed on such information, which only applies as of the date of this news release, and no assurance can be given that such events will occur in the disclosed time frames or at all. The Corporation disclaims any intention or obligation to update or revise any forward-looking information, whether as a result of new information, future events or otherwise, other than as required by law. Neither the TSX Venture Exchange nor its Regulation Services Provider (as that term is defined in the policies of the TSX Venture Exchange) accepts responsibility for the adequacy or accuracy of this news release.
Photos accompanying this announcement are available at
https://www.globenewswire.com/NewsRoom/AttachmentNg/0095c1ef-c37b-4c36-b380-600e4855e3ee
https://www.globenewswire.com/NewsRoom/AttachmentNg/640e966c-4b58-4c8e-97d4-6372d8ac4d76

Resource News, Oil and Gas News, Mining News, Renewable News